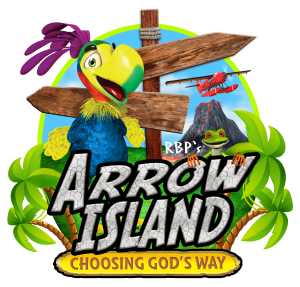 High adventure awaits all boys and girls, moms and dads on Arrow Island!! Join the exploration during Vacation Bible School: Choosing God's Way, June 11, through June 15, 2018, 9:30-12:00.
A treasure map, a volcano, pirates, parrots, an island castaway, treasure hunters and a sailing ship beckon you on this adventure!!! Don't miss this action filled week on Arrow Island with fun activities and exciting events for the whole family!!
Ages 4 through 6th grade will not want to miss exploring God's truth during Arrow Island VBS!! This exciting week is filled with Bible stories, games ad recreation, live skits, snacks, and prizes!
Arrow Island VBS runs from 9:30 am to Noon, Monday through Friday, June 11-15, 2018.
Moms, Dads & Grown-ups!
VBS includes fun for the entire family! You are encouraged to come along and enjoy the fun of VBS with your children. VBS is meant to build up the whole family!
All week long, children will be learning important Bible truths, enjoying live skits, eating fun treats, singing good songs and earning points and rewards which can be enjoyed at the Friday Fun Fair…this Fair will include games and prizes for all who attend.
It's Easy to Ride the Bus to VB
1.  Find the Maritime Metro Transit bus stop nearest to your home.
2.  Make sure a responsible person rides with you.
3.  Arrive at the Metro Intermodal by 9:30 am.
4.  Board Bus 6A by 9:30 am to arrive at VBS on or about 9:33 am
5.  Get off at: Western Ave. & South 24th Street; (Holy Family Memorial)